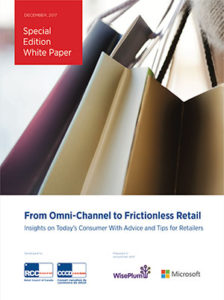 Insights on Today's Consumer With Advice and Tips for Retailers
This study is a collaboration between research tool WisePlum, Microsoft Canada Inc, Retail Council of Canada (RCC) and RCC's Marketing Advisory Committee.
This Canadian retail study explores Canadian shoppers' attitudes/expectations of bricks & mortar, bricks & mortar + online, and online retailers. Key questions answered include reasons for shoppers' preferences for where and how they purchase, and how these differences vary by retail vertical, age and gender. Study provides retailers with actionable insights on how to mitigate existing friction points within and across channels as well how to build loyalty with customers post-purchase.
Fill out the form below to download the free whitepaper and learn more about the study findings.
* These fields are required.