By Paula Courtney
CEO, The Verde Group.
In my last blog post, I talked about evolving customer expectations and I mentioned a possible canary in the coalmine retailers would be wise to pay attention to right now: the dissatisfaction and frustrations many customers have with problem resolution and support and its potential impact on loyalty for retailers.
Well, to double down on my aviary metaphors, the chickens did indeed come home to roost during the pandemic: a whole slew of problems, from channel conflict and confusion – like how to buy online or pick up purchases – to supply chain issues and badly executed digital communications threatened customer satisfaction and loyalty and put revenue at a risk for retailers across the spectrum.
There was an assumption at the start of COVID-19 – or a hope – that customers would give retailers a hall pass and that retailers would be forgiven for frustratingly long lines and wait times or bad service. But, the reality is, that didn't happen: customers weren't feeling the love and they became less loyal, taking much of their business elsewhere.
Part of the reason was that some retailers were showing the love – a lot of it. The digitally native Amazons of the world did extremely well and wowed customers with a seamless purchase experience, quick (most of the time) deliveries and frictionless returns. When the **** hit the fan, they were ready to give customers what they wanted.
Compare that to traditional bricks and mortar retailers, like one specialty retailer whose sales unbelievably were still 90% in-store at the start of the crisis. With stores shuttered, it had to ramp up its ecommerce site, not to mention figure out deliveries (free shipping?) and returns, all in a matter of weeks. Needless to say, it was a disaster and the business suffered, perhaps irreparably.
A NEW HOPE FROM A SURPRISING PLACE
It's not all doom and gloom, however. There is some promising news that hints at how retailers can begin to rebuild or improve their relationships with customers. In our Q4 Consumer Loyalty Study – Understanding CX Drivers of Market Performance (Verde Group/Wharton Baker Retailing Center), we noticed this tantalizing find: that completely resolving customer problems significantly enhanced future purchase intent, above and beyond customers who had no problems to begin with.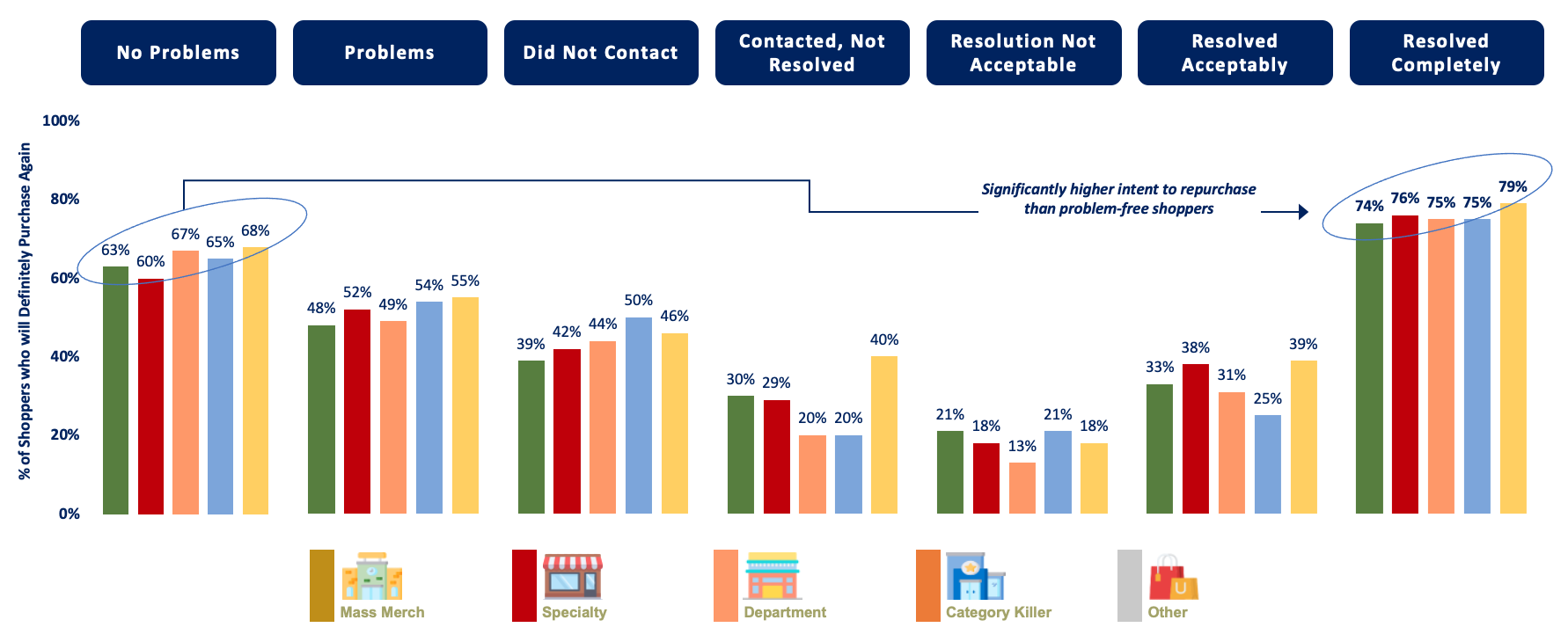 In other words, our research suggests that it's not only possible to return customers with negative experiences to the same place as they were before those experiences but it's actually possible to make them more loyal than before.
Another bit of research likely answers your next question "how?": when we asked customers about the ultimate shopping experience that would wow them, the one that appeared to consistently lift purchase behavior for all retail categories was a noteworthy: hassle-free customer support. In other words, coming out of the last two years, it's not bells and whistles customers are looking for – they simply want great, hassle-free service.
The reason may not be that surprising: as a friend recently told me about her dinner at local restaurant, "we were just happy to get a reservation."
Now, we have no idea, as the pandemic recedes from our day to day lives, whether expectations will rise again, whether customers will begin to demand higher grade experiences – more personalized service or a special gift that's above and beyond. Having learned a thing or two about human behavior over the last 25 years, I'd wager that customers will increasingly want even more love from retailers in the coming months and years as we forget about COVID. Retailers will need to be ready to deliver. But for now, wowing customers and gaining loyalty and trust are more than ever about the fundamentals – customer service and problem recovery, well executed.