As uncertainty lingers regarding the stability of the global economy and the consumer's appetite to spend begins to wane, retailers are feeling the pinch. Long-term strategic investments in CX measurements and management programs are falling victim to short-term cost-cutting measures with the goal of achieving quarterly earnings targets. After all, the "safe bet" is to act immediately and swiftly to preserve the bottom line.
Unfortunately, many companies are cutting or will be cutting down on CX programs this year, according to Rick Parrish, VP, Research Director at Forrester. "Companies that cut their CX programs are shooting themselves in the foot," Parrish says. The only question, he adds, is how badly that bloody injury is going to be. In a world where consumers are experiencing an unprecedented level of CX friction, Forrester predicts that one in five companies are expected to ditch their CX teams altogether in 2023. So why are these programs being cut?
Verde Group believes the answer is relatively straightforward: CX practitioners are unable to connect investments in CX performance to the business's financial performance.
Supporting Evidence
A recent poll conducted by Verde Group found that 41.4% of CX practitioners struggle to connect CX insights to their company's financial performance. In addition, 38.6% of practitioners indicated that achieving organizational alignment is their primary challenge to achieving their CX objectives.

We believe this is largely driven by the lack of correlation to business performance.

This is where the opportunities and challenges lie.
A Path to Keep Your CX Program on the Table
CX programs are always evolving as is your customer experience. Here are a few suggestions that can help keep your programaway from budget challenges:
1. Don't focus on attitudes. Focus on understanding experiences – especially negative experiences that are impacting your customers.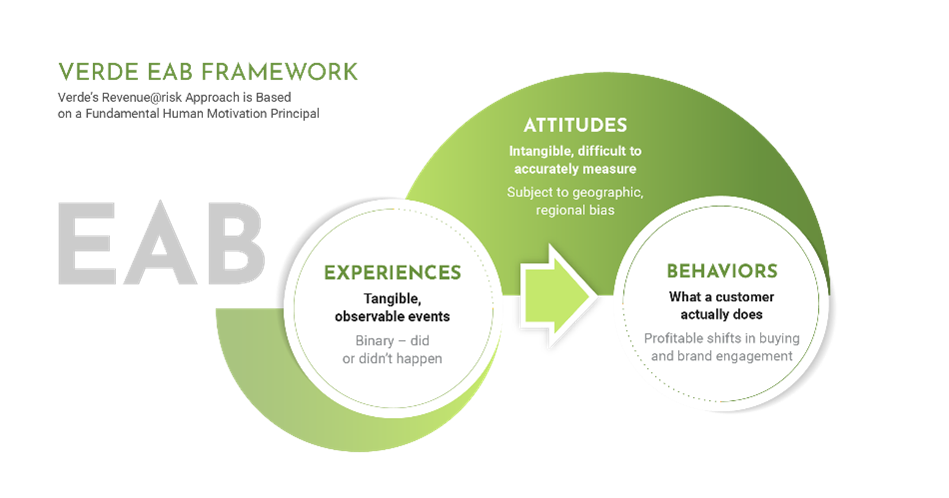 2. Understand that not all problems are created equal. Problem frequency does not equate to the damage caused by those CX interactions. Separate the noise from signals to focus on those critical few issues impacting customer behaviors.
In a recent program, we found that 3 of the top 5 problems had nothing to do with shopper purchase behaviors yet the organization was spending time and resources addressing these issues. We refer to this sub-optimal use of resources as chasing the illusion of progress. And other issues were not on their radar screen – "the silent killers" of their business.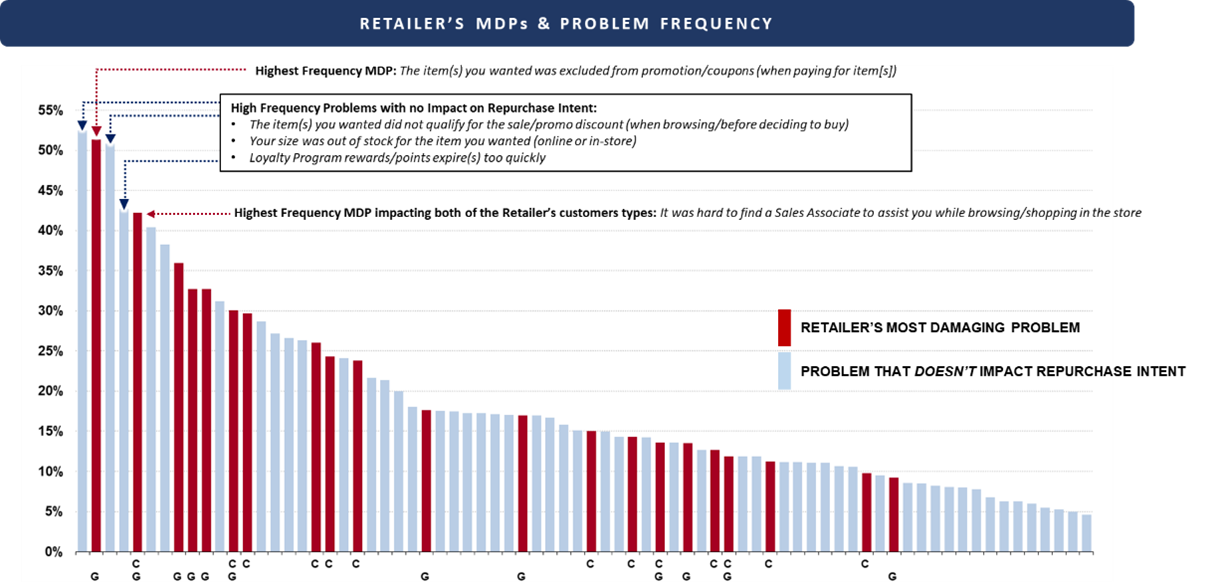 3. Utilize behavioral data to validate impact of Voice of the Customer (VoC ) research. This is where most CX programs fail. By linking CX findings to customer behaviors and business financials, the C-Suite will understand the impact and opportunity associated with CX insights and are better equipped to act on them. In a recent retail case study, we found that each incremental MDP experienced was reducing purchase frequency by 2.8 purchases per year with the average number of MDPs experienced 3.7. This impact was significant and crystalized the market share impact of CX friction: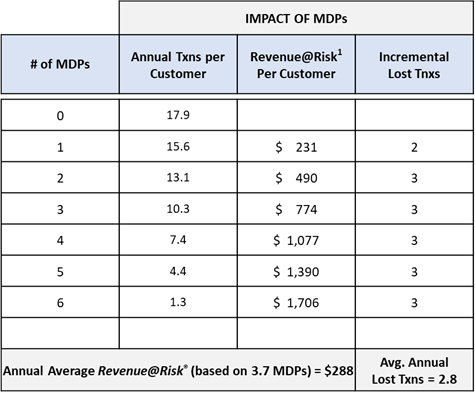 4. Extrapolate findings. Most organizations gather insights from statistically reliable samples. Therefore, it is statistically reliable to extrapolate findings to understand the enterprise impact of CX friction points. The example below shows the estimated impact of CX friction on the enterprise.
The Key: Ensure your CX efforts reflect the experiences of not only your better customers, but also those customers who split their share with your brand and your competitors, or those who choose the "other guys".

5. Monitor progress using a reliable CX beacon metric. This can be a sensitive topic for some organizations, but the reality is that many attitudinal metrics simply do not correlate to changes in financial performance. This is highlighted below where we compared NPS and Verde Group's Revenue@Risk®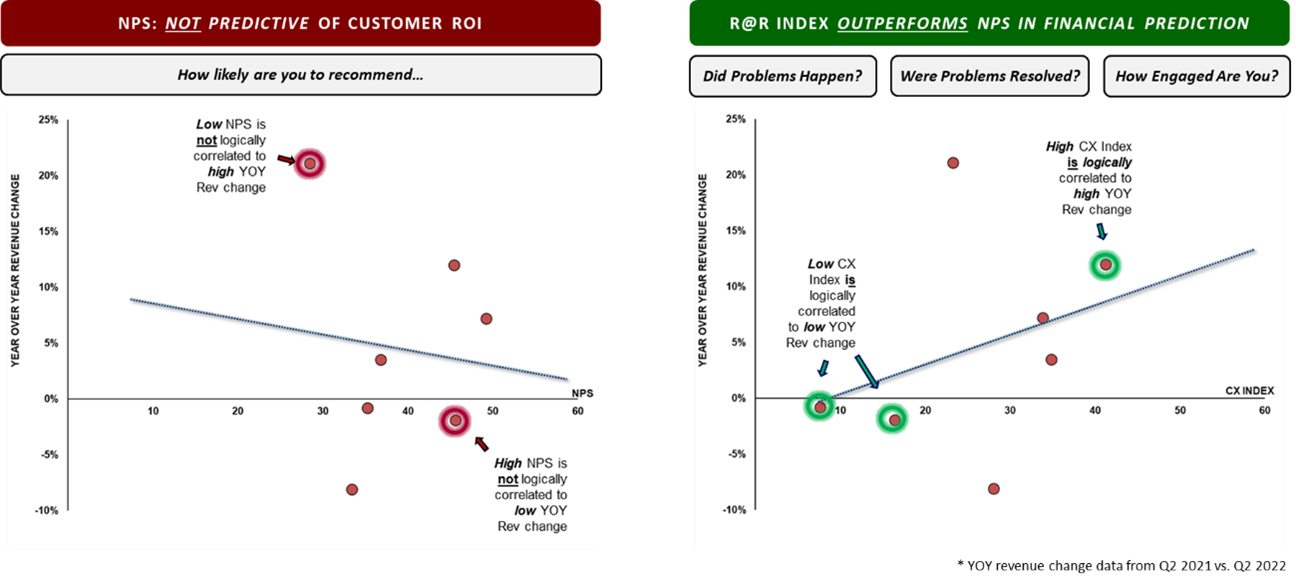 To summarize, CX practitioners need to determine the correlations between customer behaviors and an organization's bottom line. Critical issues that are affecting customer behavior should be ranked by their financial impact. There also needs to be a definable difference between the behaviors of loyal customers and occasional customers. With CX metrics in place and a more focused understanding of customer behavior, a higher value will be placed on CX investments.
The Verde Group are CX experts. Contact us for help with your company's CX strategies.